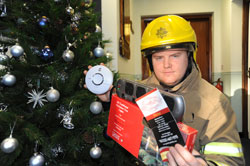 County Durham and Darlington Fire and Rescue Service are urging everyone to buy themselves some extra presents this Christmas. They would like every house to receive the following gifts;
Smoke alarms, a plug in circuit breaker, some LED Christmas lights, some tea light holders and a menu for a local takeaway. 
Andrew Allison the Service's Senior Community Safety Officer explained, "A working smoke alarm is a life saver and every house should have at least one fitted at every floor level.  Too many people overload their sockets so we suggest using extension cables sensibly and use a plug in circuit breaker as added protection.  Christmas lights need to have an approved mark on them and be in good condition with no worn wires; LED lights are ideal.  Lots of people use tea lights now but often don't realise how hot they get.  Tea light holders will make sure they don't set fire to what they stand on.  Don't forget to keep tea lights and candles away from flammables like wrapping paper, curtains and blinds as well.  "
When asked about the takeaway menu Andrew answered, "Cooking and frying and drinking alcohol don't go together at all.  The majority of fires in the home start in the kitchen, so if you do feel hungry after drinking alcohol don't do the cooking yourself, just order a takeaway."
The Service has 12 top tips for the 12 days of Christmas:
 
• Ensure you have a working smoke alarm installed on all levels of your home. A working alarm can give you the vital time needed to escape from a fire. Test your smoke alarms regularly and never remove batteries to power presents!
• Check on older relatives and neighbours this Christmas to ensure their safety as they are at greater risk from fire.
• Never leave cooking unattended.  The majority of fires start in the kitchen so this is a high risk area.  Avoid cooking whilst under the influence of alcohol and always turn off kitchen appliances when you have finished cooking.
• Never leave candles unattended. Keep candles out of the reach of children, and away from decorations, cards and wrapping paper, fires, lights and heaters.
• Put your cigarette out, right out.  Make sure your cigarette is fully extinguished and take care when drunk or tired. It's very easy to fall asleep while your cigarette is still burning and set furniture alight.
• Don't overload sockets – ensure only one plug per socket.  Always turn off plugs when they are not in use, except those that are designed to be left on, like freezers.
• Ensure you switch off fairy lights and unplug them before you go to bed, or leave the house.
• Check your Christmas tree lights conform to the British Standard (BS EN 60598).
• Don't hang decorations from lamps or heaters as they could catch fire.
• Always use an RCD (residual current device) on outdoor electrical equipment. This safety device can save lives by instantly switching off the power if there is a fault and can be found in any DIY store.
• Fireworks – if you have fireworks, follow the firework code
• Make sure that everyone in your home knows what to do in a fire – in the event of fire: get out, stay out and call 999 
County Durham and Darlington Fire and Rescue Service wish everyone a safe and Merry Christmas.